Aloha Ambrosia Morning Moisture Elixir
MORNING MOISTURE ELIXIR 
for all skin types
DESCRIPTION
An exotic, superfood feast for the skin, overflowing with youth-enhancing antioxidants and vitamins derived from organic mangosteen, goji berry, guava and passionfruit oils. Its feather-light consistency absorbs easily, leaving skin primed for makeup application and perfectly moisturized throughout the day.
MOISTURIZE, PRIME AND GLOW.

-Lightweight all-day moisture and supernatural glow
-Skin balancing and anti-inflammatory
-Evens and improves skin tone
-Reduces appearance of fine lines and wrinkles
-Perfectly primes for flawless makeup application
AROMA PROFILE:
She smells of jasmine flowers and tropical rain showers, and she will leave you with a gorgeous aloha glow. Jasmine oil helps to restore the skin by balancing moisture, reducing dryness, gently fading scarring, and minimizing breakouts due to its antiseptic and antibacterial properties. The delicate scent of jasmine is heavenly and connects with the heart, awakening romantic and poetic feelings while evoking a peaceful state of being. Jasmine stimulates the release of serotonin, which results in an uplifted mood and a burst of creative energy- the perfect way to start the day for your skin and spirit. 
*Olive Squalane, *Helianthus Annuus (Sunflower) Seed Oil, *Simmondsia Chinensis (Jojoba) Seed Oil, *Garcinia Mangostana (Mangosteen) Seed Oil, Passiflora Edulis (Passionflower) Seed Oil, *Actinidia Chinensis (Kiwi ) Seed Oil, Tocopherol, Jasminum Grandiflorum Flower Extract (Jasmine Essential Oil), *Aloe Barbadensis Leaf Extract, *Psidium Guajava (Guava) Fruit Extract, *Malpighia Glabra (Acerola Cherry) Fruit Extract
*organic
**wild-harvested
Gently press or massage 1 pump of elixir onto face and neck after cleansing and toning in the morning. Wear alone, or allow 1-3 minutes before applying makeup or Bless Beauty Balm.
SKIN TYPE AND BENEFITS
SKIN TYPE:
Aloha Ambrosia is suited for all skin types. She has a feather-light consistency, making her ideal for daytime use. She absorbs like a dream and moisturizes to perfection.
BENEFITS:
This beauty will help to strengthen, soften, even your skin tone and repair while filling in fine lines. Your skin will feel soft and supple and ready to take on the day. Bonus? She smells of sweet flowers and tropical rain-showers!
ORGANIC OLIVE SQUALANE oil mimics the lipids in our skin and has been touted as 'natures facelift.' This regenerating and tonifying oil helps to prevent age spots, reduces the appearance of wrinkles, softens the skin and boosts cellular oxygenation and regeneration.
ORGANIC JOJOBA OIL is very similar in molecular structure to our skin's natural sebum, making it the ideal moisturizer. This lightweight oil is absorbed easily, moisturizes beautifully and won't clog your pores.
ORGANIC ACEROLA CHERRY contains high amounts of vitamin C and Vitamin A, both of which help to promote a radiant, bright and youthful complexion.
MANGOSTEEN OIL is a true super-food and has been dubbed the"queen of the fruits" due to its countless cosmetic benefits. Mangosteen is high in antioxidants and helps reduce skin inflammation while strengthening and stimulating collagen production. 
GOJI BERRY OIL  is full of antioxidants and amino acids. Goji berry oil helps to firm and tighten the skin, reduce inflammation, and stimulate circulation, which aids in reducing the appearance of scarring. 
ORGANIC MARACUJA PASSIONFLOWER OIL  Organic Passionfruit oil also known as Maracuja oil is rich in vitamin A and potassium, both of which are essential vitamins that help to keep the skin healthy. The antibacterial and anti-inflammatory properties of Passionflower oil help combat acne and inflammation. This exotic oil is rich in ascorbic acid, vitamins, and essential minerals and helps reduce sebum secretion- making it an ideal oil for balancing the skin. Lightweight and delicate, Passionflower absorbs effortlessly into the skin.
ORGANIC KIWI OIL  is a rich source of alpha-linolenic acid, which helps the skin retain moisture. Kiwi oil is also rich in phytonutrients, vitamin E, and omega oils, and leaves your skin smooth and soft. 
ORGANIC GUAVA OIL is high in vitamin K, which helps to improve blood circulation and treat skin discoloration such as dark circles, acne irritation, and broken capillaries. Guava oil also contains the powerful antioxidant lycopene, a high amount of vitamin C, which helps to strengthen collagen protect the skin from environmental pollution. 
ORGANIC ALOE VERA LEAF  is also known as the 'plant of immortality'. Aloe helps to heal wounds and soothe the skin. Aloe also moisturizes the skin and contains auxin and gibberellin hormones, which help to stimulate the growth of new cells. Aloe also contains antioxidants and vitamin C and E that help to keep the skin firm and hydrated.
JASMINE Aloha ambrosia contains our signature blend of Jasmine essential oils, which help to restore the skin by balancing moisture and reducing dryness. Jasmine oil has also been known to help fade scarring and reduce breakouts due to its antiseptic and antibacterial properties. Not to mention, the scent of jasmine is truly heavenly. Jasmine connects with the heart, awakening romantic and poetic feelings and evokes a happy state of being. Jasmine stimulates the release of serotonin, which results in an uplifted mood and a burst of creative energy- the perfect way to start the day!
Please note, the color of Aloha Ambrosia will vary from batch to batch. This is due to the use of unrefined, organic and cold-pressed oils and natural botanicals. 
Customer Reviews
Write a Review
Ask a Question
Filter Reviews:
skin
products
moisturizer
Smells
Leahlani
Siren Serum
love
skin feeling
face
bottle
08/10/2020
Sarah W.
United States
Acne Prone & Sensitive
The Aloha Ambrosia Morning Moisture Elixir has been a saving grace in trying to moisturize my skin without breaking out. I suffer from adult acne around my chin and neck. The elixir has been moisturizing without feeling greasy later in the day PLUS my skin has cleared up as it has not been over producing oil now! Thanks Leahlani!
08/10/2020
Kate S.
United States
Glowing
Love this serum! Leaves my skin feeling glowy without oily. Definitely recommend!
08/09/2020
Emily M.
United States
Wonderfully Light!
So fabulous! It's so lightweight and great for adding moisture and getting that glow. It smells very subtly and is so smooth. Another wonderful product from Leahlani!
08/07/2020
Angela C.
United States
Aloha moisture elixir
I love it! I have mature skin and it makes my skin glow
08/07/2020
Mia M.
United States
Aloha ambrosia is Amplifying!
Another essential for my morning routine. Mixing the ambrosia with my siren serum creates the perfect blend to brighten and liven my face. I am ready to approach the day with the sweet smells and love the natural glow.
08/06/2020
Carrie S.
United States
Aloha Ambrosia
Lightweight and smells like the tropics! Great for the daytime.
08/06/2020
Cindy C.
United States
Great product
Use it every morning. Great for all skin types.
08/06/2020
AIMEE H.
United States
Morning Paradise mood
Love in a bottle. Finally have a reason to have a morning facial ritual.
08/06/2020
Aimee Q.
United States
Wonderful product
Wonderful product. My face is no longer dry and I have much fewer breakouts.
08/06/2020
Marla M.
United States
Aloha Ambrosia
Love it as always!
08/06/2020
Leslie L.
United States
Aloha Abrosia Morning moisture Oil
All of Leahlani's elixirs are divine but this oil is my favorite. I have dry combo skin and one pump of this and the brightening siren serum and my skin is super glowy and hydrated all day. I really appreciate the travel sizes, I can always have my serums even when money is tight. I find that one pump along with the toner and not only does it absorb better but it lasts twice as much!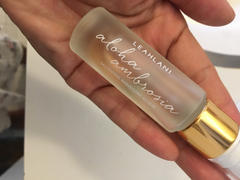 08/06/2020
Kim A.
United States
Amazing product!
I absolutely fell in love with this product. I can't get enough of it. The smell and the way it leaves my face is incredible. I can't wait to try other products.
08/06/2020
Kari H.
United States
Not a Great Fragrance
The product itself is nice and lightweight and doesn't leave my skin feeling oily however the smell is terrible. Their other products I have smell heavenly so maybe I just got a bad batch but that's why I'm giving it 3 stars
08/06/2020
Lauren Y.
United States
Aloha Ambrosia
I cannot get enough of this product. For starters, jasmine is my favorite scent and instantly takes me back to the islands of Kauai. I've loved using this in the morning as a moisturizer, it is a wonderful primer under my makeup to give me an all-day glow, and even if it didn't provide any of those benefits, I'd use it as a perfume to lift my spirit and bring about peace and calm. It's truly a blessing!
08/06/2020
McKenna D.
United States
Obsessed is an understatement
I can't live without this product. I use it every single morning and have my mom and sister hooked now too. The smell is divine and the consistency is perfect, so moisturizing and not oily or heavy at all. I often put this on and go for a run or do a quick workout after and I never have to worry about my skin clogging up or not being able to breathe. Such a beautiful formula. I'd highly recommend this (and have to many) to anyone looking for a face oil or moisturizer.
08/06/2020
christine o.
United States
AMAZING
Love this stuff. Doesn't irritate my skin:)