RICH MOISTURIZING BEAUTY BALM
FOR ALL SKIN TYPES
Our bestselling daily moisture-melt deeply nourishes the skin, delivering unparalleled comfort, dewy softness and youthful elasticity. With its rich organic butters and cold-pressed beauty oils, Bless firms, plumps and smooths the skin while enveloping the senses in calming aromatherapeutic essences of orange blossom and blue tansy.
SOFTEN, MOISTURIZE AND COMFORT | Beauty Benefits
-Delicate, luxurious all-day moisture
-Smooths, nourishes and softens the skin
-Plumps and firms, reducing the appearance of fine lines and wrinkles
-Supports balance in dry, sensitive and mature skin types
SCENT PROFILE:
She smells of sweet orange blossoms and tranquil blue tansy. The aroma is delicate and comforting.
SKIN TYPE:
Bless can be used on all skin types, but is especially beneficial for dry, sensitive, and mature skin. If your skin tends to lean more on the oily side, start by using the tiniest amount of Bless. Emulsify between your fingertips and gently 'press' into the skin, making sure to dab a small amount around your eye and lip areas. 
*Butyrospermum Parkii (Shea Butter), 
*Theobroma Cacao (Cacao) Seed Butter, *Argania Spinosa 
(Argan) Kernel Oil, *Camellia Sinensis (Camellia) Seed Oil, 
*Moringa (Moringa Oleifera) Seed Oil, *Sclerocarya Birrea 
(Marula) Seed Oil, *Simmondsia Chinensis (Jojoba) Seed Oil,
Citrus Aurantium (Neroli) Flower Oil, Tocopherol, *Passiflora 
Edulis (Passionfruit) Seed Oil, Clay (Rose), **Tanacetum 
Annuum (Blue Tansy) Flower Oil, Orchis Mascula (Orchid) 
Extract, Rosa Canina (Rosehip) Flower, Ascorbic Acid, 
*organic **wild-harvested
Bless can be used in many ways. For use as a moisturizer, mist your skin with your Leahlani toner and then emulsify the tiniest amount between your fingertips and gently massage into your face, neck and decollate after applying your serum to help lock in moisture and soften the skin. Allow a couple of minutes for your skin to absorb Bless before applying makeup fully. You may also use Bless to help moisturize and repair your lips. 
Use Bless on any dry areas that need extra TLC. Massage into cuticles and on your decolette at night.
For use as a cleansing balm, moisten your face with warm water. Emulsify a small amount of Bless in your hands and gently massage into your face and around your eye area. If you are wearing makeup, make sure you give your skin a thorough massage. Remove with a tissue or cleansing cloth that has been soaked in warm water. Follow with a second cleanse with either the Honey Love or Kalima cleansing powder.
ORGANIC ARGAN OIL is often called "liquid gold". Rich in vitamin E, antioxidants, and fatty acids, Argan oil absorbs beautifully into the skin providing long-lasting moisture while delivering beneficial skin nutrients. 
ORGANIC CAMELLIA SEED OIL is green tea oil. This feather-light oil is antioxidant-rich and helps to protect the skin from free radical damage. It also helps to emulsify other oils and fats, making it the ideal oil to use in a balm. Camellia seed oil is anti-inflammatory and astringent, making it perfect for problematic skin that needs a little extra TLC. 
ORGANIC ROSEHIP FRUIT is rich in ascorbic acid and vitamin c, as well as 32 other minerals and vitamins such as beta carotene, bioflavonoids, citric acid, malic acid, and phosphorus. Rosehip fruit helps to improve elasticity in the skin and even out skin tone.
ORGANIC COCOA AND SHEA BUTTER Cocoa butter is high in antioxidants and rich in fatty acids that help to protect and hydrate the skin. Shea butter aids in the skin's natural collagen production and contains oleic, stearic, palmitic, and linolenic acids, which help to nourish and protect the skin. Shea butter also provides natural UV protection, which helps to shield the skin from the sun's harmful rays.
ORGANIC MARACUJA PASSIONFLOWER OIL is rich in vitamin A and potassium, both of which are essential vitamins that help to keep the skin healthy. The antibacterial and anti-inflammatory properties of Passionflower oil help combat acne and inflammation. This exotic oil is rich in ascorbic acid, vitamins, and essential minerals and helps reduce sebum secretion- making it an ideal oil for balancing the skin. Lightweight and delicate, Passionflower absorbs effortlessly into the skin.
ORGANIC MORINGA OIL The Moringa tree is called the "miracle tree" and "tree of life" due to its many benefits and uses. Moringa oil is nutrient-dense and helps to tone the skin and slow down the aging process due to its high concentration of antioxidants. Moringa oil has antibacterial properties that help to soothe acne inflammation and reduce redness. 
ORGANIC MARULA OIL is rich in essential fatty acids and absorbs quickly and beautifully into the skin. The fatty acid content combined with the high levels of antioxidants in Marula oil makes it the perfect beauty oil, protecting your skin from sun exposure and pollution while hydrating, moisturizing and softening the skin at the same time. 
ORCHID OIL The orchid flower is considered one of the most beautiful flowers in the world. Orchid flower oil is high in antioxidants and can help regulate skin pigmentation while leaving your skin unbelievably soft and moisturized. 
NEROLI ESSENTIAL OIL is commonly known as 'orange blossom'. Neroli is extracted from the white flowers of the bitter orange tree. Neroli oil aids in cellular regeneration and helps to strengthen elasticity while helping to reduce acne and scarring. In aromatherapy, Neroli is grounding and relaxing and can help alleviate anxiety and insomnia. 
BLUE TANSY Also known as Moroccan Chamomile. The word 'Tansy' comes from the Greek word "Athanaton", meaning "immortal" because Blue Tansy has real tissue regenerating abilities. The healing properties of Blue Tansy stem from the azulene pigment, which gives it a striking blue color, helping to soothe the skin and alleviate redness and inflammation. Blue Tansy helps smooth out broken capillaries and helps improve tissue strength and elasticity. 
Customer Reviews
Write a Review
Ask a Question
Filter Reviews:
skin
products
stuff
moisturizer
Leahlani
smell
little
face
feeling
nothing
08/09/2020
Katie S.
United States
Luxurious serum
This is such a lovely product!! I bought a sample size to try it out before getting a full size product and totally loved it. It's not too oily, moisturizes the skin and leaves it Dewey and glowy. Will buy more!!
08/09/2020
Courtney G.
United States
Amazing
I love using this product as my night cream. It smells so good, and leave my skin feeling soft and hydrated.
08/08/2020
Nancy R.
United States
Bless Beauty Balm is the best
I love everything about bless beauty balm. I'm 69 years old so don't expect a miracle but the beauty balm is so nourishing for my dry skin. It only takes a little as it goes a long way and goes on very smoothly. The fragrance is heavenly. Thanks for making such a lovely product.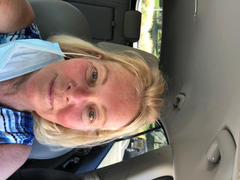 08/07/2020
Amy F.
United States
Buy Bless Beauty Balm Now!!
I have tried almost every moisturizer out there. From $6 drugstore options to $400 designer brands. Nothing has worked like Bless Balm. I have sensitive, acne prone, dry in areas/oily in others skin. I'm in my 40s and Bless Balm keeps my skin hydrated, smooth and acne free. I use prescription grade retin A every night and Bless Balm has made it so that I'm never dry, peeling or irritated by it. Buy this! You will love it!!
08/07/2020
Elizabeth S.
United States
Obsessed
I am obsessed. This is it for me! I love the way it feels and it smells like heaven! My absolute favorite!!!
08/07/2020
Mia M.
United States
Bless balm is bliss
My skin maintains moisture throughout the day after applying the beauty balm, especially around the eyes and mouth.
08/07/2020
Jennifer M.
United States
LOVE this product
My favorite night balm.Leaves my skin skinny smooth and radiant!
08/07/2020
LR
Lydia R.
United States
The perfect overnight moisturizer
Bless has been my most recurring purchase from Leahlani! I can't live without it now. A little goes a long way, and my skin is so hydrated in the morning after I use this on my face at night. Bonus = it smells AMAZING
08/07/2020
Mary M.
United States
Pink perfection
I have used for years, deserted island product I use as everyday moisturizer
08/06/2020
Christina D.
United States
Bless heaven
It makes my skin feel soft and smells great. Definitely worth the buy!
08/06/2020
Shawne P.
United States
Bless is the Best!!
Absolutely love this! It moisturizes without making your skin feel greasy!!!
08/06/2020
Stacy .
United States
Heck Yes to bless!
I love it so much. It feels amazing. It moisturizes. It's great on lips too and the smell is gorgeous.
08/06/2020
Alyssa N.
United States
Love love love!!
It makes my skin feel so refreshed and hydrated!
08/06/2020
MJ
McKenna J.
United States
Amazing for sensitive skin people's eyes and lips
Oh man do I love this product. The smallest amount truly does go such a long ways. I have quite the acne prone skin, so I use this around my eyes and lips. I love. This is a bit too heavy for me (acne prone) but I'm also getting some wrinkles so this is a great gem to come across for that extra hydration. Also, I bet during the winter months when I can get really dry, this will be just the ticket for will face application to return skin to balance. I feel like I'm really treating my skin with all leahlanis skin care products in the most natural way. I love Hawaii (live in Portland Oregon) and the smells of leahlani are truly one of a kind. I love that the smells are completely natural too. I can't wait to keep trying more of their products!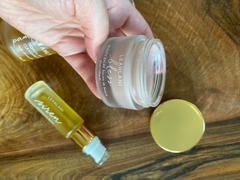 08/06/2020
Leslie L.
United States
08/06/2020
Audra S.
United States
Little Jar if Heaven
Bless I don't know what it is but Bless Beauty Balm makes my skin feel softer and smoother than any other moisturizer that I've tried. I have incredibly dry skin and have found that using Bless morning and night keeps my face moisturized, soft, and without a tight dry feeling. I actually used Bless, decided to try some alternatives, but found myself back again because nothing else would do the trick. To top it all off, the smell is incredible!