Happy Hour
Balancing Serum
42.00
Ideal for mature dry and sensitive skin types
A luminous daily balancing serum that brings stressed, sensitive skin to its happy place by gently alleviating inflammation, neutralizing redness, soothing irritation, and diminishing scarring. With its nourishing cocktail of chardonnay grapeseed oil, antioxidant tea extracts, soothing lavender, and blue tansy, Happy Hour protects the skin from free radical damage and unveils a calm, radiant and balanced complexion.
Harmonize, balance and soothe.
- Gently calms and balances dry, sensitive, stressed-out skin
- Reduces inflammation and strengthens skin elasticity
- Regulates oil production, combatting redness and breakouts
- Rich antioxidants protect skin from free radical damage
Magic Ingredients
Leahlani Skincare products are made fresh in small batches from high-performing organic, wildcrafted, and local Hawaiian ingredients. They are 100% cruelty free, and contain no synthetic dyes or fragrances.
Blue Tansy
Powerfully healing with regenerative properties, Blue Tansy alleviates redness and inflammation, while smoothing broken capillaries and improving skin's strength and elasticity.
Rosehip Oil
Penetrates deeply to promote even skin tone, reduce scarring, and stimulate collagen production with a natural abundance of essential fatty acids, vitamins E & C and B- carotene.
Leahlani Antioxidant Cocktail
Our trademark redness-reducing, inflammation-calming, toning elixir of lavender, chamomile, rose geranium, calendula and organic tea oils.
Chardonnay Grapeseed Oil
Antioxidant, anti-inflammatory and rich in linolenic acid, this astringent oil tightens and moisturizes, balancing the skin's natural oil production.
Ritual
Apply 1/2-1 full pump to palm, emulsify, and gently massage into clean, damp skin 1-2x daily, AM or PM.
Happy Hour
Balancing Serum
Customer Reviews
Write a Review
Ask a Question
Filter Reviews:
skin
serum
Happy Hour
Leahlani
smell
redness
scent
face
skin tone
glow
04/09/2021
Cristie S.

United States
I recommend this product
Happy Hour - Happy Skin
I have enjoyed everything from Leahlani over the past two years of consistent use. I have used both the Siren and Happy Hour thru multiple bottles and can feel both are wonderful for normal/combination skin type such as mine. I live in a dry mountain climate and enjoy the extra hydration and soothing benefits of serums. Happy Hour is a little thicker, nice for winter/spring use and a little goes a long way, making these bottles really last - for me 3 mos on average. HH has a lovely scent that, like all of Leahlani products, never smells of chemical or gives an irritating feel when applied. The clean formulas of Leahlani are of such quality and really worth it! I use the serums in combination with the Aloha Ambrosia Morning Moisture and Mahina Evening Elixers and/or Bless Balm. Leahlani offers a simplified, quality, lovely clean product routine.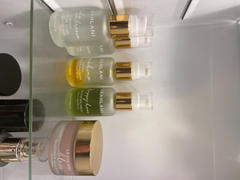 04/09/2021
Lorissa L.

United States
I recommend this product
Best Serum Ever!
Happy Hour has been quite the game changer! I've been using the serum since last year and the difference in my skin overall is awesome! The smell of this little wonder also is so unique and delicious. Always a repurchase staple in my skincare routine.
04/07/2021
Anna W.

United States
I recommend this product
Love!
Happy hour serum is the best skincare product I have ever tried. It's amazing. Evens the skin tone and makes my skin feel incredibly soft. I love this product.
04/01/2021
Sunne J.

United States
I recommend this product
My skin is so HAPPY!!!
I have been using the Happy Hour serum, which is really an oil, on my face at night and then adding the beauty balm to the areas where I have wrinkles and the combo is making my skin look amazing!!!!!! I love Leahlani products and that says a lot, because I was the Chief Pollinator of Burt's Bees for 14 years!!! I only use products on my skin I would put in my mouth and eat, food for your skin. And that's what you get with Leahlani's products!!! Thank you!!!!
03/30/2021
Mary P.

United States
I recommend this product
Happy Hour Serum
I use citrus & citrine regenerating toner and then the serum. Love the combination!!
03/24/2021
Brennah M.

United States
I recommend this product
LOVE it
Feels amazing. Redness in my face is slowly going away! My skin feels the best it's ever felt
03/21/2021
Jessica L.

United States
I recommend this product
Smells and feels great
I love the smell and makes my skin moisturized
03/21/2021
Michelle S.

United States
I recommend this product
Great product!
I use it every day and love how it moisturizes my skin and smells wonderful!
03/20/2021
Clarity C.

United States
I recommend this product
Heaven in a bottle
I could not be more pleased with this serum. From the way it smoothly spreads to the scent it is perfection. I love facial serums and have tried a plethora of them! This is by far one of my favorites. It's going on my forever face care essentials. Can't wait to try even more of their products.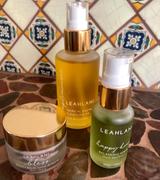 03/17/2021
Elizabeth O.

United States
I recommend this product
Amazing
I love the product
03/08/2021
Randa Z.

United States
Amazing serum
This serum is the best I've used. It's easy to apply, smooth and not greasy. I've excellent results using it since 3 years. Love the texture and how it smells.
03/08/2021
Dinah S.

United States
A delightful pairing
I love Happy Hour because it really helps me to feel happy. Some mornings I mix it with aloha ambrosia for an extra special moisturizer for the day!
03/08/2021
Kelley T.

United States
Great
Smells great. So good for winter dry skin
03/04/2021
Natalie

United States
AMAZING SERUM
I'm on my second bottle and I will continue to repurchase! This is my all-time favorite serum. It keeps skin hydrated all day long and gives you skin a glow from within. A bonus is that it smells amazing!!
03/04/2021
Natalia B.

United States
This stuff is worth the investment
Like everything from leahlani, it's divine. The oil is fantastic and the smell is very serine. I'll definitely be repurchasing.
03/01/2021
Laura C.

United States
Fantastic for Acne-Prone Skin
I love this serum! The blue tansy in Happy Hour really helps with balancing my skin and preventing blemishes. It also smells divine - but that's what you can expect with any Leahlani product!