Pamplemousse Tropical Enzyme Cleansing Oil
TROPICAL ENZYME CLEANSING OIL
FOR ALL SKIN TYPES
A brightening daily cleanser that dissolves excess oil, impurities, and makeup, leaving skin sublimely supple and hydrated. Formulated with opulent tropical oils, illuminating enzymes of pineapple + papaya, sweet vanilla bean and fragrant floral essences, this versatile cleansing oil works beautifully on all skin types.
CLEANSE, NOURISH AND INVIGORATE | Beauty Benefits

-Brightening, nutrient-rich daily cleansing

-Dissolves oil, makeup and impurities

-Softens and balances skin tone

-Leaves complexion refreshed and glowing
SCENT:
Pamplemousse has the aroma of ripe, pink grapefruit, sweet vanilla bean, and beautiful plumeria flower.
Apply 1-2 pumps to a dry face. Add warm water and gently massage in circular motions across your sweet skin. The consistency will transform into a creamy texture, dissolving makeup and oils. Rinse well with warm water and pat dry. For a second cleanse, follow with Kalima or the Honey Love Exfoliator. 
*Macadamia Ternifolia (Macadamia) Seed Oil, *Helianthus Annuus (Sunflower) Seed Oil, *Citrus Paradisi (Pink Grapefruit) Peel Oil, di-ppg-2 myreth-10 adipate, Euterpe Oleracea (Acai) Fruit Oil, Lactobacillus/- Papaya Fruit Ferment Extract, *Plumeria Acutifolia Flower Extract, *Vanilla Planifolia Fruit Oil, Tocopherol, Psidium Guajava (Guava) Fruit Extract, Ananas Sativus (Pineapple) Fruit, Carica (Papaya) Seed Oil, Musa Paradisisiaca (Banana) Fruit, Hibiscus Rosa-sinensis (Hibiscus) Flower Extract
*organic
MACADAMIA OIL is lightweight and silken smooth, it is loaded with essential fatty acids that help to gently moisturize and protect the skin. Macadamia oil is also a close match to our own naturally occurring sebum.
SUNFLOWER OIL is full of vitamin E and fatty acids, including omega-6, that will help moisturize, nourish and heal the skin.
PINK GRAPEFRUIT OIL helps to purify, brighten and revitalize the skin.
ACAI OIL has an impressive amount of antioxidants and has strong anti-inflammatory properties. Acai oil will help to moisturize the skin while helping to reduce inflammation. 
PINEAPPLE ENZYME (also known as Bromelain) will help to reduce inflammation on the skin while breaking down protiens that cause build up. Pineapple enzymes will help to improve the skins texture by effectively disintegrating excess surface cells for efficient and non-abrasive exfoliation.
GUAVA EXTRACT is rich in vitamin C, antioxidants and carotenes, which help improve the complexion and leaves your skin radiant and fresh. 
PAPAYA ENZYMES will help to firm the skin and reduce breakouts while evening out the skin tone.  
PLUMERIA OIL not only smells heavenly, it is also an antioxidant, astringent, emollient and anti-bacterial.
BANANA  is rich in potassium and vitamin A. Banana is great for dry skin and provides adequate moisture and hydration to the skin.
HIBISCUS This particular flower has been dubbed the "Botox plant" because of its firming and lifting abilities on the skin. Hibiscus contains natural AHA which can help speed cellular renewal, mildly exfoliate the skin and control acne breakouts. Hibiscus helps to strengthen elasticity and moisturize the skin, and the presence of anthocyanocides help to make the pores appear smaller due to its astringent properties. 
Customer Reviews
Write a Review
Ask a Question
Filter Reviews:
skin
water
stuff
makeup
smell
cleansers
love
compliments
Aloha
face
08/06/2020
Meghan M.
United States
The best face cleansing oil ever!!!
The smell of this stuff is divine!!! And lingers a little after washing. I'm loving my new products. And I've had zero skin issues with breakouts it sensitivity. Highly recommend !
08/06/2020
Rosie M.
United States
The BEST Cleansing Oil Ever!
If you want to have a true Hawaiian experience while removing make-up and oil, this is the cleanser! It's clean, natural, and so much aloha goes into her creation...THANK YOU LEAH!
08/06/2020
Rosemarie B.
United States
Pamplemousse
Feels great. Love it.
08/06/2020
Beverley B.
Canada
Older Skin
I like your enzyme cleansing oil for an older skin. My skin doesn't seem to be as dry after I use it.
08/06/2020
Lydia S.
United States
Pampelmousse
This is my favorite cleanser! I've been using this morning and night since it was released! It gently cleanses the skin leaving it so soft and refreshed! It even washes off makeup and mascara!! I can't say enough good things about it! Highly recommend. Great for acne prone and dehydrated skin. Soft, clean, refreshed and smooth is the result of using this cleanser! Love that it's oil based but washes clean with water. It's a win win for me!
08/06/2020
shannon h.
United States
Amazing!!
I can't live without this item. The smell, the quality, the compliments!! Every asks how I look so young at 44. It's this product!
08/06/2020
Elizabeth S.
United States
Love it!
This is the best cleanse. Easily removes make up gently! It really does! I love everything about it. My skin feels so soft and it smells so lovely! As soon as you add warm water it becomes a creamy texture. Amazing alchemy! Love, love, love!
08/06/2020
Leslie L.
United States
Tropical Enzyme Cleanser
Day and night this cleanser removes my thick layers of sunblock and in the few occasions my makeup as well! You know it's great when it turns into a milky substance! I like to let it sit on my skin while I brew some tea, it brightens and hydrates plus, Citrus Oils are shown to uplift, remove stress, and ease tension. This is the only cleanser I reach for!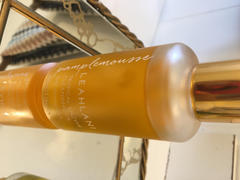 08/06/2020
Kili W.
United States
A beautiful cleansing oil
I really enjoy this cleansing oil. It has a beautiful light citrus scent and the oil is also a very light oil I don't know how to explain it . once you add water in emulsifies and you don't feel any oil residue After , It just leaves my face feeling fresh and moisturized . I love adding this to my morning routine or as my first cleanse in my night routine.
08/06/2020
Madeline S.
United States
Pamplemousse Tropical Enzyme Cleansing Oil
Lovely product and smells amazing! I love double cleansing with this!
08/06/2020
Lauren O.
United States
Amazing!
Bought this to help balance out my skin. Soap-based and cream-based cleansers weren't working for me, and I was definitely skeptical of using oil as a cleanser. Pamplemousse feels and smells amazing and my skin is buttery soft after every wash. My skin tone is more even and hydrated. Purchased a bottle for my mom and now she is also a huge fan!
08/06/2020
Kathy T.
United States
Awesome
It's so refreshing and smells so good. Makes my face feel silky smooth.
08/06/2020
Sophia S.
United States
I keep coming back for more...
I'm going on my 4th purchase of this amazing stuff. I like to switch up my cleansers, but I just keep coming back to this one. The smell is amazing, it cleans off all the dirt and grime with out drying out my skin, and it doesn't make my sensitive acne prone skin breakout. In love! ❤️❤️❤️ Purchase it now! You won't regret it.
08/06/2020
Susana G.
United States
Best thing I've bought for my skin!
I absolutely love Pamplemouse! It feels so great after cleaning and the positive difference in my skin is indescribable. So glad I found this!
A surgery life saver!
My review is a little unconventional but Leahlani products can be used in so many wonderful ways that I think it's worth sharing! I recently had ankle surgery and could not shower for 2 weeks! Instead, I could only sponge bathe. I was terrified that my body acne would return and my skin would be completely dried out. The Tropical Enzyme Cleansing Oil was a life saver! I was able to apply 4-5 pumps to a warm, damp wash cloth and completely cleans my body. I followed with a warm, damp wash cloth to wipe down any excess oil and my skin has stayed breakout-free and perfectly hydrated!!!
My forever daily cleanser
I received a sample of this cleanser and during my first week of using it, my husband thought I was wearing makeup when I wasn't, because my skin was so clear from this product. I immediately ordered a full size bottle, but had to wait a few days after the sample ran out until it came in. The first day I used it, my husband thought I was wearing makeup again, when I wasn't wearing anything on my skin. I have struggled with redness, dry flaky patches, and cystic hormonal acne. This has helped with all of these things. It also takes off my eye makeup and mascara, so cleansing at night is a one step process. I have found my forever cleanser, thank you so much Leahlani!