Aloha Ambrosia
Morning Moisture Elixir
58.00
An exotic, superfood feast for the skin, overflowing with youth-enhancing antioxidants and vitamins derived from organic mangosteen, goji berry, guava and passionfruit oils. Its feather-light consistency absorbs easily, leaving skin primed for makeup application and perfectly moisturized throughout the day. 

Moisturize, prime, and Glow.
- Lightweight all-day moisture and supernatural glow
- Skin balancing and anti-inflammatory
- Evens and improves skin tone
- Reduces appearance of fine lines and wrinkles
- Perfectly primes for flawless makeup application
MAGIC INGREDIENTS
Leahlani Skincare products are made fresh in small batches from high-performing organic, wildcrafted, and local Hawaiian ingredients.
Olive Squalane
Mimics skin's natural lipids to support cellular regeneration, soften skin, reduce appearance of wrinkles and prevent age spots - nature's face lift!
Guava
Balances skin discoloration, dark circles, acne irritation and broken capillaries with its high concentration of antioxidants and circulation-boosting Vitamin K.
Jasmine
Balances moisture, gently fades scarring and minimizes breakouts with an ethereal, uplifting fragrance that stimulates the release of serotonin.
Mangosteen + Goji Berry
An antioxidant power duo that firms and tightens skin, reduces inflammation, supports collagen production and enhances circulation to reduce the appearance of scarring.
Ritual
Gently press or massage 1 pump of elixir onto face and neck after cleansing and toning in the morning. Wear alone, or allow 1-3 minutes before applying makeup or Bless Beauty Balm. 
Aloha Ambrosia
Morning Moisture Elixir
Customer Reviews
Write a Review
Ask a Question
Filter Reviews:
skin
Leahlani
Aloha Ambrosia
smell
elixir
love
makeup
scent
moisturizer
face
01/20/2021
Katherine J.

United States
I recommend this product
Love the smell
I do love this product especially under makeup. I am not wearing makeup very often anymore and find that it's not enough moisture for my aging skin. I am thinking that the Blessed product is my go to all the time moisturizer unless I am wearing makeup.
01/13/2021
Rebecca M.

United States
I recommend this product
Lovely!
This is a lovely product. The scent is beautiful and it feels amazing on my skin!
01/13/2021
Cristie S.

United States
I recommend this product
Love Aloha Ambrosia
I have been using Aloha Ambrosia and the Mahina Replenishing Elixer for about 2 years and both are phenomenal. Aloha is a lovely, light scent for morning that goes on smoothly and absorbs well. I have sensitive skin and have never had an irritation issue; I feel like this oil is suitable for a range of skin types. A little goes a long way and these bottles usually last me about 3 mos. I also use the Bless Balm and Siren Serum when I feel like I need the extra hydration but the Aloha/Mahina combo is a great day & night basic solution that will not disappoint.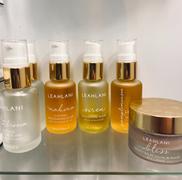 01/12/2021
Cheryl M.

United States
I recommend this product
So happy I tried it!
I was hesitant about using an oil as a moisturizer/primer, but now I'm hooked because my skin feels moisturized all day, I'm using less make up and it goes on so smoothly.
01/11/2021
Elizabeth S.

United States
Lovely
Wonderful, this a a daily must have oil for me! One of my favorites from Leahlani!
01/06/2021
Kim E.

United States
Gift
The natural fragrance and results are very good
01/04/2021
Josie

United States
Magic in a bottle!
Before I started using leahlani I would have an extremely dry face after cleansing and by the evening my face was oily. I used a cream based moisturizer. So it only made sense that I was skeptical of an oil based moisturizer but after one use my skepticism went far, far away. This stuff is literally magic. It feels super greasy as soon as you put it on but within seconds it's super light and not even noticeable on the skin. The best part is I can go all day without having to blot oil off my face (gross but true). My skin looks just as good in the evening as it does in the morning. I love it!
01/01/2021
KERRI C.

United States
Ambrosia
Amazing! Smells great and my skin feels hydrated and results are definitely showing!
12/31/2020
Taryn R.

United States
The best morning elixir
Moisturizing without being too heavy. Very light feel, and smells so good!!
12/28/2020
Steph L.

United States
My favorite
This is my favorite item in the whole line! It smells heavenly and just absorbs so well into my skin. I love using it by itself or before I apply my makeup!
12/26/2020
BD
brittany d.

United States
love this product!
this product leaves my skin feeling very fresh and is a joy to take!
12/26/2020
Casey H.

United States
Glowing
First it smells like heaven. Then it makes your skin glow. I love it!
12/23/2020
Julie M.

United States
Beautiful Elixr
This is so beautiful top to bottom and smells amazing. It's light enough for me to wear under makeup or moisturizing using on top of retinol at night. The smells brings me back to the islands in the best way!!
12/21/2020
pamela h.

United States
This is how I start my day
I used to live in Hawaii and the dry California winters are brutal on my skin. Waking up to this sweet balm is as close as I can get to my islands.
12/20/2020
Leah T.

United States
Just Dreamy!
Goes on super smooth with a nice tropical scent. Love putting it on every morning!
12/19/2020
Heather M.

United States
Aloha Ambrosia
I love all Lealani products!