Kalima
Coconut Cream Cleansing Powder
54.00
A sumptuous daily cleanser that purifies and brightens skin while gently exfoliating to remove impurities and even tone. Infused with silken coconut milk, antioxidant-rich tropical fruits, softening clays and soothing oatmeal, this versatile beauty doubles as a cleansing mask treatment that gently fades post-inflammatory hyper-pigmentation.
Cleanse, brighten, and smooth.
- A potent, luxuriant daily cleanser
- Gently exfoliates without stripping moisture
- Evens complexion and boosts collagen production
- Doubles as brightening anti-inflammatory cleansing mask
Magic Ingredients
Leahlani Skincare products are made fresh in small batches from high-performing organic, wildcrafted, and local Hawaiian ingredients. They are 100% cruelty free, and contain no synthetic dyes or fragrances.
Coconut Milk
Softens, moisturizes and smooths the skin with its generous stores of natural proteins, Vitamins A + C, and fatty acids.
Guava + Camu Camu
Filled with skin-loving vitamin C, these tropical super fruits even tone and gently exfoliate and brightening the complexion.
Roselle Hibiscus Flower
Dubbed the "botox plant" for its firming and lifting properties, this AHA-rich astringent flower speeds cellular renewal, prevents breakouts and moisturizes skin.
Colloidal Oatmeal
Powerfully soothing with emollient water-binding polysaccharides and hydrocolloids that hold moisture against the skin, helping it soften and heal.
Ritual
Pour a teaspoon of Kalima onto palm and slowly add water drop by drop until powder activates and transforms into a rich mousse. Less water will yield stronger exfoliation – more water will deliver a gentler cleanse. Gently massage into moist skin in circular motions for 1-2 minutes before rinsing with warm water. For mask use, allow Kalima to dry before cleansing.
Kalima
Coconut Cream Cleansing Powder
Customer Reviews
Write a Review
Ask a Question
Filter Reviews:
skin
face
cleanser
mask
smell
Leahlani
water
powder
scent
bottle
04/06/2021
Lori S.

United States
I recommend this product
Exfoliating is fun again!
The pandemic would've/should've/could've been a great time for self care but for me it was a time to completely abandon any skincare or hair care routine and let's not even mention excerise. I can't remember how I discovered Leahlani but little by little I've added to my collection and little by little it has collected dust EXCEPT Kalima. I had three sample jars and I found it was easy to dump a little out and do a quick scrub in the shower (the extent of my skincare regimen) not only was it not a pain, it was a pleasure. The smell is fantastic and my skin was smoother and brighter after each use. I found myself not minding to do a little self care, maybe even looking forward to it. I still find the smell intoxicating each time, I still enjoy the glow and as soon as I ran out of samples I bought the full size!
04/03/2021
Melanie R.

United States
I recommend this product
Wow!
I had used this cleanser before and it was great, but the other day I let it dry longer and added a little bit of water to exfoliate at the end and my face was the softest it's ever been for like two day with just one use. I have acne prone skin and this worked great, plus it smells so good that I want to eat it!
03/31/2021
Peggy E.

United States
I recommend this product
Love it! smells like heaven
I got off the soap train at some point and stopped putting traditional cleansers on my face. I still like to have something in the shower that gives me a refresh and reset. This fits the bill - gentle effective exfoliation and your skin feels so soft and plump afterward. Perfection.
03/30/2021
Karli M.

United States
I recommend this product
Lovely!
I was nervous to use this but I'm so glad I tried it! I love that you can add more water if you want a more gentle cleanse or less and use it as a mask. Very versatile!
03/21/2021
Melissa A.

United States
I recommend this product
Best cleanser EVER
I live for my morning and evening cleansing ritual. I've been struggling with adult a net for years and have tried countless products. I am forever grateful to my mom for introducing me to Leahlani.
03/10/2021
Jamie C.

United States
I recommend this product
Coconut cream cleanse powder
Amazing!! My skin has been brwakinv oyr from the mask and this is incredible!!
03/05/2021
Elizabeth S.

United States
I recommend this product
Love Kalima!
This is my favorite morning ritual now. This cleanser leaves my skin soft and fresh for the day. I follow with a spritz of Citrus and Citrine Toner and top it off with Aloha Ambrosia. Heavenly
02/24/2021
Nicole S.

United States
I recommend this product
The only cleanser that works for my acne-prone skin
I love this cleanser so much because a week after I start using it, I notice all the little bumps and acne on my face disappear. It's all I can use now and it smells incredible!
02/22/2021
Lauren T.

United States
I recommend this product
Awesome!
Versatile and great as both face wash & mask! Smells wonderful!
02/08/2021
Kayla P.

United States
I recommend this product
Changed my skin after about 4 uses
My face is responding really well to this as an initial cleanse. I do mix it with meli glow and did with the sample of honey love. I mix it in a bowl and use a fan brush to apply. Massage for 2 mins and let sit for another 1-4 mins. I then do a second cleanse with another face wash. It has reduced the inflammation/acne dramatically. I can't wait to see how it progresses.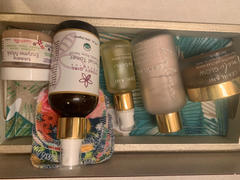 02/05/2021
Smith, L.

United States
I recommend this product
Must Have!!
I LOVE this product. It's the perfect balance of cleansing, exfoliating, softening, and nourishing for my very sensitive skin. I have been using this product for about 3 years and cannot imagine my life without it.
01/20/2021
Julie N.

United States
I recommend this product
Great smelling efficient product!
Every single item I purchased from the evening oil to the mermaid mask smells and works great! And the bonus free samples are cool too
01/18/2021
Gretchen T.

United States
I recommend this product
Amazing and gentle
I alternate days with Honey Love and this keeps my skin very smooth and happy! It's very gentle but effective. I like to leave it on for a couple minutes before rinsing off.
01/14/2021
Kim V.

United States
I recommend this product
Kalima
My face feels smooth and soft after applying. I find it a little difficult using it as that you lose some product when adding water to palm of hand. Other than that it is wonderful.
01/13/2021
Ri D.

United States
I recommend this product
Cleansing powder
I like it. My skin feels awesome after using it and it has been great for my sensitive skin. My only complaint is having to mix it BUT it's also a good thing because you can make it just a cleanser or an exfoliator! Love this product will buy again!
01/12/2021
Amanda N.

United States
I recommend this product
Love this!!
I love this as a cleanser and a mask!