Kalima Coconut Cream Cleansing Powder
COCONUT CLEANSING POWDER
FOR ALL SKIN TYPES
A sumptuous Vitamin-c rich daily cleanser that purifies and brightens skin while gently exfoliating to remove impurities and even tone. Infused with silken coconut milk, antioxidant-rich tropical fruits, softening clays, and soothing oatmeal, this versatile beauty doubles as a cleansing mask treatment that gently fades post-inflammatory hyper-pigmentation.
CLEANSE, BRIGHTEN AND SMOOTH | Beauty Benefits
-Potent, luxurious daily cleansing
-Gently exfoliates without stripping moisture
-Evens complexion and boosts collagen production
-Doubles as brightening anti-inflammatory cleansing mask
SCENT PROFILE:
A sweet blend of creamy coconut, vanilla bean, and citrus fruit.
Oryza Sativa (Brown Rice) Powder, Cocos Nucifera (Coconut Milk) Fruit Powder, Kaolin (Clay), Avena Sativa (Oat) Kernel Flour, Bentonite (Clay), Vanilla Planifolia (Vanilla) Seed Powder, Ascorbic acid (non irradiated, non GMO), Clay (Rose), Sodium Bicarbonate, Rosa Canina (Rosehip) Fruit, Musa Paradisica (Banana) Fruit, *Myrciaria Dubia (Camu Camu) Fruit, Sodium Chloride (Hawaiian Alaea Sea Salt), Hibiscus Rosa-Sinensis Flower Powder, **Citrus Sinensis (Sweet Orange) Peel Oil Expressed, Maltodextrin, *Psidium Guajava (Guava) Fruit, Citrus Tangerina (Tangerine) Peel Oil, Citrus Nobilis (Mandarin) Peel Oil, Vanilla Planifolia (Vanilla) fruit extract, Acacia Catechu Seed Powder
Pour a teaspoon of Kalima into the palm of your hand. Slowly add water, drop by drop, until you've reached an ideal consistency. Less water will yield a stronger exfoliation; more water will deliver a gentler cleanse. The blend will start to froth and activate- ensuring that the ingredients are fully integrated. Gently massage into moist skin in circular motions. Rinse well with warm water. 
For use as a deep-cleansing mask, allow Kalima to dry before rinsing and gently pat your skin dry with a cotton towel.
ORGANIC COCONUT MILK softens and moisturizes the skin and contains skin-loving vitamin A and C, calcium, iron, and natural proteins. Coconut milk helps to soothe irritated skin, and the natural fatty acids help to clarify and tone.
ASCORBIC ACID is vitamin C. This powerhouse antioxidant helps to brighten and even skin-tone, strengthen collagen and elastin, and leaves your complexion vibrant and smoother with each use. 
WILDCRAFTED BANANA fruit is rich in potassium, and vitamin A. Banana is great for dry skin, providing adequate moisture and hydration.
ORGANIC OATMEAL has a soothing effect on the skin. Oatmeal contains water binding polysaccharides and hydrocolloids that hold moisture against the skin, acting as an emollient, helping to soften and heal the skin. Oatmeal has also been known to alleviate atopic dermatitis and contact dermatitis. 
We make a signature in house blend of genuine Hawaiian alaea sea salt and organic vanilla beans- ground into a fine and silken powder. Alaea salt gets its pink color from the particles of volcanic red clay. Alaea clay is composed of over 80 separate minerals and is rich in iron oxide. Combining this with vanilla brings a serene balance of purification while introducing an abundance of minerals to the skin.
ORGANIC HIBISCUS FLOWER We use the red 'roselle' hibiscus flower. This particular flower has been dubbed the "Botox plant" because of its firming and lifting abilities on the skin. Hibiscus contains natural AHA, which can help speed cellular renewal, mildly exfoliate the skin, and control acne breakouts. Hibiscus helps to strengthen elasticity and moisturize the skin, and the presence of anthocyanocides helps to make the pores appear smaller due to its astringent properties.
ORGANIC BROWN RICE POWDER is a gentle, yet effective exfoliant that helps to cleanse daily pollutants and slough off dead skin cells. 
GUAVA AND CAMU CAMU fruits are full of skin-loving vitamin C and antioxidants. The natural acids in these super-fruits help to even skin tone and mildly exfoliate. Camu Camu fruit is a superfood and is one of the greatest sources of vitamin C, which helps to lighten and even out the skin tone. 
BENTONITE CLAY Derived from volcanic ash, this clay can produce a sort of electric charge when activated with water, which makes it effective at absorbing and removing toxins and impurities in the skin.
ROSE CLAY is full of iron oxides, which give it that beautiful rosy color. Rose clay provides mild exfoliation and enhances circulation, regenerates collagen and elastin and helps promote new cell growth. Rose clay also helps reduce inflammation, tighten pores, and helps to fade hyperpigmentation.
KAOLIN CLAY Is Also known as white clay or china clay. Kaolin is very gentle and helps to exfoliate the skin mildly and stimulates circulation, leaving you with a soft complexion and a healthy glow. 
ROSEHIP FRUIT contains vitamin C as well as 32 other vitamins and minerals. Rosehip is high in antioxidants and helps improve elasticity
Customer Reviews
Write a Review
Ask a Question
Filter Reviews:
skin
face
smell
cleanser
Leahlani
mask
powder
exfoliation
skin feeling
scent
09/22/2020
Jana K.
United States
I recommend this product
Love Kalima!
This is my semnd bottle of Kalima. I love the smell and texture. It is great cleanser and I will definitely buy it again.
09/19/2020
Lorenda G.
United States
I recommend this product
LOVE!
I have always had really bad acne around my neck and chest areas and the coconut cream cleansing powder has really helped not only heal my acne but also has helped fade scarring from past acne. 100% recommend
09/17/2020
rebekah h.
United States
Skin so soft
Might be my new favorite
09/14/2020
Alex R.
United States
Kalima Coconut Dreams
So far it has been amazing! This cleanser is great for a quick deep clean or you can let it sit as a mini mask for an even better feeling! Sometimes I even mix a little of the honey love sample in once it's sat for a minute. MAGIC. My sometimes congested post baby skin is oh so happy.
09/11/2020
Brooke B.
United States
Wonderful!
This is definitely a luscious face wash! It does help with exfoliating and softening my face! I wish I had found leahlani a long time ago! Wonderful! ❤️
09/10/2020
Danielle B.
United States
Soooo gooood
This might be my all time favorite cleanser. I'm telling everyone I know to buy it. I'm in LOVE
09/09/2020
Basil Y.
United States
Kalima dream
I absolutely love this cleansing powder! It's hard to choose my favorites from Leahlani line, but this is in the top three. My favorite it to mix it with the pamplemousse and massage it into my skin for an awesome cleanse and exfoliation! It smells divine, like starburst and leaves your skin feeling like a dream! -Becky Younis
09/04/2020
MB
meghan b.
United States
favorite. product.
my favorite cleanser! followed by some pamplemousse
09/04/2020
Cecilia C.
United States
Amazing!
I use it daily, it leaves my skin very clean :)
09/01/2020
Leslie L.
United States
Kalima coconut cleanser
Powder cleansers last such a long time. This one isn't drying and leaves my skin super hydrated and soft. I love that I can mix it with the meli glow and make a whole other treatment. If you incorporate this into your skincare and alternate, I promise you will see the difference in acne and overall health of your skin!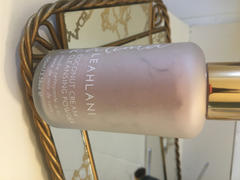 08/30/2020
Meghan M.
United States
Pure heaven!!!!
The first time I used this I couldn't get over how good it smelled. The next time I washed my face with it I made my husband smell my face.he agreed it smelled delicious! It's such a gentle yet affective exfoliant.
08/29/2020
Maureen P.
United States
LADIES..LADIES..LADIES!!!!
ATTENTION ALL WOMEN BUT MOST ESPECIALLY NATURAL REDHEADS!!!! -- The Coconut Cream Cleansing Powder is FREAKIN AWESOME!! ....Natural Redhead here in her early Fifties..and finally a formula that works for my skin! The Cleansing Powder is Truly - PERFECTION ITSELF!! WHY is it so Great..you ask?? It does ABSOLUTELY EVERYTHING THAT THE DESCRIPTION SAIDS IT IS DESIGNED FOR - PLUS MORE! Not only is my skin as soft as a baby's immediately after use it Also gets down through all the layers of the Epidermis for a Deep Clean that is Especially important to Redheads as our skin is so Acidic. Most organic cleansers just skim the surface and never get our face really clean. OK..AND THE SMELL when you first open the product it is to Die For! I mean it does say Coconut on the bottle (and I do like coconut) but the scent that comes through is Fresh Made Chocolate (I Love Chocolate!) (and it does not hurt that it looks like coco powder too!) along with a special smell/ taste from my childhood. Those under the age of 40 probably would not know of the latter so lets finish this review with - Every time you open the cap it is as if a Professional Chocolatier just handed you specialty chocolate mixed with your Favorite childhood memory. Like I said TRUE PERFECTION! -- Now go Order some! Just resist the urge to eat it.... :) Side note - my daughter (early thirties) tried it also and Loved it! I told her 'that's nice .. now go get your own bottle..Ha!'
08/23/2020
Gabriela
United States
Absolutely amazing!!!
This is the best cleaner EVEERRRRR!! I love it so much! Will never go back to anything but this. Leahlani never disappointing, always amazing me as always!!
08/20/2020
Mary M.
United States
Mostly love
I like how my skin feels when I let this cleanser dry on my skin for a few minutes. It's makes my skin soft and clears my pores. The smell is lovely, too! My only complaint is some of the pieces feel more rough than I'd like for my sensitive skin. It would be awesome if the physical exfoliant could be a bit smoother.
08/19/2020
Dana
United States
Love!!
I love this cleansing powder! It gently exfoliates and my skin feels so soft afterwards! It's like a mini facial every time I use it!
08/17/2020
Arlene G.
United States
The best cleansing powder
I have purchased the coconut cleansing powder for myself several times and have gifted it as well. I love it!