Pamplemousse Tropical Enzyme Cleansing Oil
TROPICAL ENZYME CLEANSING OIL
FOR ALL SKIN TYPES
A brightening daily cleanser that dissolves excess oil, impurities, and makeup, leaving skin sublimely supple and hydrated. Formulated with opulent tropical oils, illuminating enzymes of pineapple + papaya, sweet vanilla bean and fragrant floral essences, this versatile cleansing oil works beautifully on all skin types.
CLEANSE, NOURISH AND INVIGORATE | Beauty Benefits

-Brightening, nutrient-rich daily cleansing

-Dissolves oil, makeup and impurities

-Softens and balances skin tone

-Leaves complexion refreshed and glowing
SCENT:
Pamplemousse has the aroma of ripe, pink grapefruit, sweet vanilla bean, and beautiful plumeria flower.
Apply 1-2 pumps to a dry face. Add warm water and gently massage in circular motions across your sweet skin. The consistency will transform into a creamy texture, dissolving makeup and oils. Rinse well with warm water and pat dry. For a second cleanse, follow with Kalima or the Honey Love Exfoliator. 
*Macadamia Ternifolia (Macadamia) Seed Oil, *Helianthus Annuus (Sunflower) Seed Oil, *Citrus Paradisi (Pink Grapefruit) Peel Oil, di-ppg-2 myreth-10 adipate, Euterpe Oleracea (Acai) Fruit Oil, Lactobacillus/- Papaya Fruit Ferment Extract, *Plumeria Acutifolia Flower Extract, *Vanilla Planifolia Fruit Oil, Tocopherol, Psidium Guajava (Guava) Fruit Extract, Ananas Sativus (Pineapple) Fruit, Carica (Papaya) Seed Oil, Musa Paradisisiaca (Banana) Fruit, Hibiscus Rosa-sinensis (Hibiscus) Flower Extract
*organic
MACADAMIA OIL is lightweight and silken smooth, it is loaded with essential fatty acids that help to gently moisturize and protect the skin. Macadamia oil is also a close match to our own naturally occurring sebum.
SUNFLOWER OIL is full of vitamin E and fatty acids, including omega-6, that will help moisturize, nourish and heal the skin.
PINK GRAPEFRUIT OIL helps to purify, brighten and revitalize the skin.
ACAI OIL has an impressive amount of antioxidants and has strong anti-inflammatory properties. Acai oil will help to moisturize the skin while helping to reduce inflammation. 
PINEAPPLE ENZYME (also known as Bromelain) will help to reduce inflammation on the skin while breaking down protiens that cause build up. Pineapple enzymes will help to improve the skins texture by effectively disintegrating excess surface cells for efficient and non-abrasive exfoliation.
GUAVA EXTRACT is rich in vitamin C, antioxidants and carotenes, which help improve the complexion and leaves your skin radiant and fresh. 
PAPAYA ENZYMES will help to firm the skin and reduce breakouts while evening out the skin tone.  
PLUMERIA OIL not only smells heavenly, it is also an antioxidant, astringent, emollient and anti-bacterial.
BANANA  is rich in potassium and vitamin A. Banana is great for dry skin and provides adequate moisture and hydration to the skin.
HIBISCUS This particular flower has been dubbed the "Botox plant" because of its firming and lifting abilities on the skin. Hibiscus contains natural AHA which can help speed cellular renewal, mildly exfoliate the skin and control acne breakouts. Hibiscus helps to strengthen elasticity and moisturize the skin, and the presence of anthocyanocides help to make the pores appear smaller due to its astringent properties. 
Customer Reviews
Write a Review
Ask a Question
Filter Reviews:
skin
cleanser
face
smell
cleansing oil
makeup
Leahlani
skin feeling
love
wonders
09/28/2020
Kirsten D.
United States
I recommend this product
LIKE BUTTER
AMAZING PRODUCT!!
09/28/2020
Karissa L.
United States
I recommend this product
Best Cleanser
Love Pamplemousse! My skin always feels so amazing after each use! It also gets all my make-up off! Must have product!
09/27/2020
Sarah P.
United States
I recommend this product
The Most AMAZING PRODUCT EVER!!!
I absolutely love pamplemousse. It has done wonders for my skin and it always a part of my daily skin care routine!
09/26/2020
Gabrielle B.
United States
Great cleanser!
I love this product, it smells amazing and leaves your skin feeling clean but also moisturized after you use it.
09/23/2020
Carissa M.
United States
THE BEST SKINCARE I HAVE EVER USED!
I love the tropical cleansing oil, but every single item is my favorite. With everyday use of cleansing and 1-2 masks a week my skin is amazing!
09/21/2020
Roberta J.
United States
My favorite cleanser! ❤️
This is my third bottle of Pamplemousse and it's the only cleanser I will use on my face. I was hesitant to use an oil cleanser with combination acne prone skin but it's worked wonders! My skin is clear & glowing.
09/16/2020
Kassi M.
United States
Can't go wrong!
I've been using this cleansing oil for a few years now and I absolutely love it. My partner uses it too and he attributes his always clear skin to this oil cleanser!
09/14/2020
Danielle N.
United States
Love
so smooth and smells so good you can't help but love this product. when I run out I think about it until I get it again!
09/11/2020
Lauren G.
United States
Perfection in a bottle
I don't ever want to be without this product-it works beautifully cleansing my skin and removing makeup, it is gentle, effective and the fragrance is a little bit of heaven from Hawaii!!
09/07/2020
Lisa F.
United States
Pamplemousse delight
I love this product. I use it morning and night to clean my face. The texture and aroma of this cleanser is as good as a spa treatment for my skin. It's been my favorite new product of the year.
09/06/2020
Melissa M.
United States
Amazing
Love this line! It really works!
09/04/2020
Sobeida B.
United States
Amazingness
I am in love with this cleansing oil, I have recommended it to all my friends. It really cleanses your skin, when following the instructions. I can't rave enough about the scent. If you're a scent person you will love this. I'm 29 years old, I have okay skin. Since trying this cleansing oil I noticed plumped and smooth skin. Also I used their serums and elixirs which also work wonders. Try it out!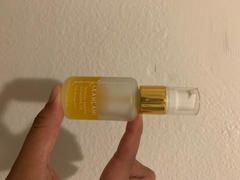 09/04/2020
Cristie S.
United States
Best Cleanser Ever!
I have been using Leahlani products for about 2.5 years and have no regrets. I started out using Aloha Ambrosia and Mahina Elixirs and became obsessed with the Tropical Enzyme Cleansing Oil when I received it as a sample. It is the perfect cleanser, never leaves your skin feeling tight and dry, but always manages to lift away the day's grime and makeup. Like everything Leahlani, it smells incredible and is worth every penny. Each time I run out and am forced to use something else I instantly regret it. I would 100% recommend this cleansing oil - luxurious, effective and a tiny bit goes a long way!
09/04/2020
Stephanie K.
United States
In Love
I absolutely love this product. It has the most beautiful aroma, and each use feels like I'm being transported to a tropical paradise. It effectively cleanses and brightens my skin. I love pairing it with the Kalima Coconut Cream Cleansing Powder.
09/04/2020
Laurie C.
United States
Pamplemousse cleansing oil is perfection!
Beautiful scent, soothing and cleansing and moisturizing all rolled into one. LOVE this cleanser. In the month I have been using it the lines on my face seem smaller and my skin is very happy :) Thanks for such a great product!
09/04/2020
Caren P.
United States
Best cleansing oil EVER!
The best! It gets all my makeup off, leaves my skin so soft, and smells amazing!! I can't live without it now.