MICRODERMABRASION EXFOLIATOR
Ideal for oily, combination, or acne-prone skin.
 A radiant weekly exfoliating treatment that shows congested, acne-prone skin some serious love. Formulated with a potent blend of anti-inflammatory noni fruit, toning hibiscus flower, stimulating clays, and microdermabrasion crystals, Honey Love smooths and clarifies, dramatically improving your skin's tone and texture.
EXFOLIATE, TRANSFORM, AND POLISH
-Exquisite, controllable exfoliation for congested skin
-Tones and purifies to combat breakouts
-Spherical microdermabrasion crystals prevent tearing and irritation
-Softens and improves skin's overall texture
-Cleanses deeply without drying skin
The honey love smells like sweet honey, tart hibiscus flower, and lavender blossoms.
*Honey (Hawaiian Raw), Alumina (Corundum Crystals), *Glycerin (Vegetable), *Chamomilla Recutita (Matricaria) Flower Powder, *Lavandula Angustifolia (Lavender) Flower Powder, Clay (Rose), Kaolin (Clay), *Hibiscus Rosa-Sinensis Flower Powder, **Aristotelia Chilensis (Maqui) Fruit, **Morinda Citrifolia (Noni) Fruit, Citrus Sinensis (Sweet Orange) Peel Oil Expressed, Leuconostoc Ferment Filtrate, Aqua, *Lavandula Angustifolia (Lavender) Oil, Hibiscus Rosa-Sinensis Flower, Helianthus Annuus Seed Oil, Anthemis Nobilis (Chamomile) Flower Oil, **Tanacetum annuum (Tansy) Essential Oil
*organic **wildcrafted
Start with a freshly cleansed face. Stir well to activate the crystals at the bottom of the jar. Massage 1/2 - 1 teaspoon of honey love into damp skin in gentle, circular motions. For optimal results, wait 3-5 minutes before rinsing well with warm water. 
WILDCRAFTED MAQUI BERRY is one of the world's most powerful superfoods, containing the highest levels of antioxidants amongst all fruits. The antioxidants contained in this berry have an extra molecule of oxygen, which helps to quickly combat the effects of free radical damage while reducing inflammation and protecting cell membranes. 
ORGANIC NONI FRUIT is antibacterial and anti-inflammatory and contains high levels of antioxidants. Noni contains vitamin A, vitamin C, niacin, iron, calcium, sodium, magnesium, and potassium. This particular fruit is very versatile; almost every part of the noni tree can be used in various forms of cooking, herbal remedies, supplements, and medicinal ointments. Noni is a natural emollient and helps to smooth and rejuvenate the skin. 
ORGANIC HIBISCUS FLOWERS We use the red 'roselle' hibiscus flower. This particular flower has been dubbed the "Botox plant" because of its firming and lifting abilities on the skin. Hibiscus contains natural AHA, which can help speed cellular renewal, mildly exfoliate the skin, and control acne breakouts. Hibiscus helps to strengthen elasticity and moisturize the skin, and the presence of anthocyanocides help to make the pores appear smaller due to its astringent properties.  
ORGANIC LAVENDER FLOWERS evoke a sense of peace and calm to our skin and well being. Lavender is antibacterial and anti-fungal, and helps to soothe the skin and calm inflammation. Lavender also has a balancing effect on the skin and will help regulate oil control.  
ROSE CLAY is full of iron oxides, which give it that beautiful rosy color. Rose clay provides mild exfoliation and helps increase circulation, regenerates collagen, and elastin while promoting new cell growth. Rose clay also helps reduce inflammation, tighten pores, and helps to fade hyperpigmentation. 
CORUNDUM CRYSTALS Corundum microdermabrasion crystals are made from the second hardest mineral known to science. The crystals are ground to a very fine powder, and they do not have any jagged edges, so they will not 'tear' skin cells like traditional exfoliators. Corundum has bacteria-killing properties and helps to clear the skin and rinses off clean- without being absorbed into the skin. 
ORGANIC HAWAIIAN RAW HONEY Raw honey is naturally antiseptic and antimicrobial, helping to cleanse the skin and dissolve bacteria thoroughly. Honey also contains gluconic acid, a mild alpha hydroxy acid that helps to brighten the skin, even the complexion and fade age spots. Raw honey is loaded with a vast array of nutrients, such as vitamin B, manganese, iron, potassium, and calcium. Once mixed with water, honey will release a peroxide property, which helps to heal acne and impede bacterial growth. Raw honey contains mild alpha-hydroxy acids that help to brighten the complexion and even the skin tone- helping to diminish scarring and age spots. Honey is a humectant, drawing moisture to the skin and replenishing it with an abundance of nutrient-dense enzymes.
Customer Reviews
Write a Review
Ask a Question
Filter Reviews:
skin
Leahlani
face
Honey Love
mask
smell
breakouts
exfoliator
scent
skin feeling
11/21/2020
Sarah M.
United States
I recommend this product
So amazing!
Honey love smells so incredibly yummy, and really makes your skin super smooth and soft! Love using this a couple times a week to really deep clean and exfoliate!
11/16/2020
Savannah I.
United States
I recommend this product
Honey Magic
I wanted to try this product after trying a sample. I have dry skin, but have had a lot of breakouts recently (more than usual for me). This is a great combination of ingredients. The honey hydrates and clears my skin and leaves it feeling so soft and I can also feel the exfoliation working to improve circulation and remove dead skin. All of the Leahlani masks are incredible, this one is my new favorite addition to my routine! I like that you can apply a little or a lot. I am using it twice a week.
11/13/2020
Brittany D.
United States
I recommend this product
A real treat!
I love this stuff! It's a really great exfoliator, my skin feels soft, moisturized and clean after using it. Plus it smells like candy! A great experience all around.
11/12/2020
Katie G.
United States
(Honey) Love it
Smells (and tastes) amazing! I use it all over my face and lips twice a week! Hello smooth skin!
11/12/2020
Hannah B.
United States
AHH-MAZING!
When I tell you I have tried every type of skin care on the market pretty much, I am not lying. ABSOLUTELY NOTHING I have ever tried compares to the Honey Love Exfoliator. I am OBSSESSED. The texture is amazing. The smell is absolutely incredible. I have to force myself to not touch my face once I wash it off because my skin is literally so soft. I will never use anything else. It is 100% worth the purchase.
11/11/2020
Keahi F.
United States
Love it
My skin has completely changed over the last several months with bad eating habits, constant mask wearing and the stress of the pandemic. I went from rarely breaking out to lots of little and very large bumps and breakouts. I've used Honey Love in the past and what I love about it is the gentle exfoliation and very soothing ingredients. I use it a couple times a week and have noticed smoother skin and less redness.
11/09/2020
Heather S.
United States
Oh honey!
My skin feels flawless after using this. So soft and radiant. It has a very strong honey scent (of course) but it is overwhelming sometimes. My only complaint is I wish there was an applicator (or spatula) that makes it easy to get a small amount out.
11/06/2020
corri p.
United States
Honey love
Great at home exfoliation!! The smell was not over powering and the crystals were not harsh to the skin! My skin felt smoother after the treatment! Highly recommend
11/06/2020
Stacey F.
United States
Leahlani saved my skin!
This is the first brand that I continue to order from, because these products actually work. My skin tone has evened out, after years of sun damaged sun spots and more. Even in the harsh winter of Montana, my skin feels moisturized and glows. And the scents of all these luscious promises like an aromatherapy journey. I can't say enough good things about Leahlani!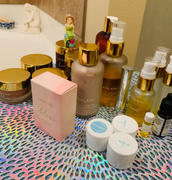 10/25/2020
Debbie T.
United States
Love Honey Love!
I love Honey Love! I use it once or twice a week and my skins just glows!
10/23/2020
Tamara S.
United States
Loving Honey Love
Honey Love is wonderful! I use a prescription cream around my mouth that dries out my skin. I use Honey Love everyday to remove the dry, flakey skin from around my mouth and on my lips. I love how it's gentle on my skin but does the trick beautifully, I follow up with Bless balm on my lips and I have no problem with chapped lips.
10/20/2020
Lindsey N.
United States
Smells Amazing
This smells amazing and exfoliates well. I'm still trying to decide if I like it. The gritty sand may be a little too rough on my skin. All of the other products I ordered have been above and beyond incredible.
10/19/2020
Melanie V.
United States
LOVE!
Very thick with a fine grit that left my skin feeling exfoliated and hydrated
10/16/2020
Lyla T.
United States
The closest to an appointment with my esthetician
After just 2 uses I was getting compliments that my skin was glowing. Overall improvement in texture and feel of my skin. I'm in love ❤️ with Honey Love and have told everyone I can about her.
10/13/2020
Kaitlin C.
United States
Leahlani - I LOVE this product!
I LOVE this exfoliator!! Smells divine and is so gentle and effective!
10/13/2020
Erika F.
United States
Honey Love Microderm Exfoliator
Excellent. I love this product. I get stubborn dry patches on my face when the weather gets cooler. Honey Love heals them. My daughters who both have hormonal acne love the product as well.