Bless Beauty Bar (Sea Salt Soap)
A deeply moisturizing sea salt shower soap infused with our signature Bless Aromatherapy Essence. Its mineral-rich Hawaiian sea salt helps the skin absorb glycerine, a moisturizing by-product of handmade soap, working into a creamy lotion-like lather that smooths and softens skin. Packed with tropical beauty oils and intoxicating floral fragrance, Bless Beauty Bar elevates your bathing experience into a comforting, aromatherapeutic escape. Made in loving collaboration with our neighbors at KopaKauai, this long-lasting soap never leaves a film or gummy residue, becoming more solid with use, like a beautiful polished stone.
THE OILS - Coconut oil*, olive oil*, avocado oil, mango butter, marula oil*, moringa oil*, and maracuja oil* (*organic)
THE SALTS - Atlantic and Hawaiian sea salts
THE SCENTS - Neroli and blue tansy essential oils
Customer Reviews
Write a Review
Ask a Question
Filter Reviews:
skin
scent
products
experience
Leahlani
smell
love
soap
face
things
09/22/2020
Athena R.
United States
I recommend this product
Bless this soap and Bless Leahlani for creating it!!
Omg I can't get enough of these products! I'm addicted!! And especially to the Bless salt soap! I've never in my life paid this much for a bar of soap but I do now because I cannot live without it!!! I even wash my face with it in the am and shower at night!! It's magical and heavenly and everything else in between!! I'm in love with all these products as you can see by my bathroom shelf picture!!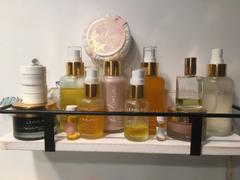 09/09/2020
Catherine B.
United States
I recommend this product
Best soap ever...
Confession: I've bought it before, and it's a splurge but so worth it.
09/05/2020
Rita T.
United States
I recommend this product
Sea Soap Review
It is the nicest bar of soap I have ever had. The smell is so wonderful.
09/04/2020
Megan L.
United States
I recommend this product
Heavenly!
I cannot day enough how much I love this scent! And knowing (and I can tell) that it's not chemical laden scary ingredient kind of smell is so awesome. I have real sensitivities in allergies with fragrance and things on my skin with eczema and so far this bar has been great on my skin! A few eczema areas that were starting to flare up before I got this have actually calmed down. Love it so far!
08/27/2020
Kristi B.
United States
I recommend this product
Blessed by Bless!
A mood lifting tropical breeze that forever wafts through my bathroom when this soap is there! I haven't even put it in my shower yet and it seems to permeate my the room with it's floral Hawaiian magic. Seriously, I was wondering where on earth the source of this intoxicating scent was coming from when, upon a minor amount of detective work I realized it was the Bless bar! It's my second purchase of it and in addition to the aroma it is a divine skin healer with a thorough cleanse. Sunscreen is no adversary. A bit pricey but worth every waft and sud!
08/27/2020
Lissa C.
United States
I recommend this product
Wonderful!
Wonderful long lasting soap that smells heavenly!!!
08/16/2020
Katharine S.
United States
Smells great
This was a nice way to treat myself during quarantine. The scent is lovely and not overpowering.
08/13/2020
Karym M.
United States
Bless Beauty Bar
I love all the Leahlani products! This is one of my favorites as it is all purpose for my face and body and the smell is divine. A must have for any bathroom.
08/13/2020
Eszter H.
Hungary
loving it
smells amazing!! soft and pampering feeling ❤
08/12/2020
Victoria R.
United States
Its such a lush salt bar.. Creamy rich..decadent..bless this scent
08/07/2020
Chris G.
United States
Smells great
I love this soap. You would think salt soap would be drying, but it is not. It actually lasts longer than I thought it would. Kind of expensive.
08/06/2020
David M.
United States
Best ever
Calling it a soap really doesn't do it justice, this stuff is amazing. I have sensitive dry skin and not only does this make every shower an experience but it leaves my skin feeling clean and moisturized. Absolutely love this product!
08/06/2020
Jessica L.
United States
Be BLESSED by Bless Beauty Bar
I can't say enough good things about this soap! The scent is absolutely heavenly and allows me to detach from a stressful day and feel relaxed and rejuvenated. My skin feels soft and smooth after using. Also, one bar lasted me several months, so the price is worth it!
08/06/2020
Debra H.
United States
Bless Beauty Bar
Fantastic. I have recommended it to all my friends. After my evening shower I feel and smell lovely
08/06/2020
Andrea H.
United States
Fantastic Bless Beauty Bar
I love this beauty bar! The beautiful aroma fills the shower and my senses. I use it everyday. It's love in a bar!
08/06/2020
Autumn F.
United States
Best bar soap!
I loved my experience with the bless sea salt soap! My skin gets extremely dry with eczema patches, when I wash with this soap I feel squeaky clean without over drying as majority of body wash and bar soaps have done in the past. Not to mention the smell is intoxicating Thank you Leahlani for your amazing products!❣️